What you need to know about your prescription drug coverage
In 2006, the federal government created the Medicare Prescription Drug program (Part D), including the three stages of drug coverage:
Initial Coverage
Coverage Gap
Catastrophic Coverage
What Is the Coverage Gap?
The Coverage Gap is sometimes referred to as the "donut hole." This is the stage where you are responsible for paying more for your medications.
When you reach a certain out-of-pocket amount, you exit the Coverage Gap and enter Catastrophic Coverage, where you return to paying a smaller share of prescription costs.
Please note that the dollar amounts for each stage of drug coverage can change year to year, and not everyone will enter the Coverage Gap. The Coverage Gap does not apply to members who qualify for Extra Help (or the Low-Income Subsidy). If you think you qualify for help, you can call 800-772-1213 to request an application.
Here is a closer look at the three stages.
Stage 1: Initial Coverage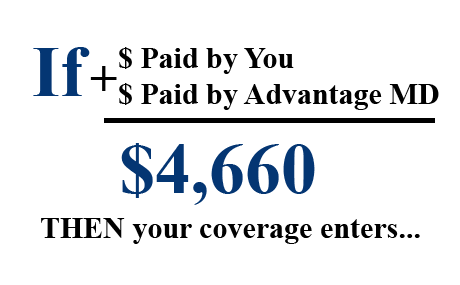 When you fill a prescription, you will pay your copay or co-insurance for the medication. Johns Hopkins Advantage MD pays the remaining cost. This is your coverage until the total yearly drug cost (what Advantage MD has paid plus what you have paid in copayments) reaches $4,660.
Stage 2: Coverage Gap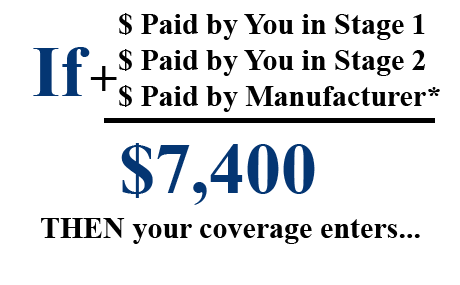 During this stage, you will pay a percentage of the drug cost instead of a copay. For 2023, those percentages are 25 percent of the cost for covered brand-name drugs plus a portion of the dispensing fee and 25 percent of the cost for covered generic drugs, including the dispensing fee. You leave the "donut hole" when your out-of-pocket costs reach $7,400.
HMO members have coverage for Tier 1 drugs in the Gap! As an Advantage MD HMO member, you will continue to pay $0 for Tier 1 drugs while in the Coverage Gap.
Stage 3: Catastrophic Coverage
During this stage, your share of the cost goes back down. You will pay the greater of:


Once you reach the Catastrophic Coverage stage, you will stay there for the remainder of the calendar year.
Review your "Monthly Prescription Drug Summary" that Advantage MD sends to you in the mail if you have filled a prescription. This will help you determine which stage you are in and when you will move to the next stage.
*The drug manufacturer pays 70 percent of brand-name drugs during the Coverage Gap. This counts toward your total out-of-pocket cost.
2023 costs shown, subject to change January 1, 2024.