Get personalized information detailing the next steps you should be thinking about as you get closer to your Medicare eligibility date. From your health care choices to financial and lifestyle plans — be sure the right topics are top of mind.
We do not share or store your personal information. The information you provide is for the sole purpose of giving you the best experience.
There's plenty to consider when planning for Medicare. Our goal is to help simplify the process, and ensure you're prepared. So we've collected insight, tips, education and lots of useful information to help guide you as you go down the path toward this next phase of life.
First Steps:
Know The Basics
Start with your retirement checklist
This resource will help ensure you address many of the necessary steps on the way to retirement.
It's Health Screening Time
One of the most important things you can do to ensure your good health at any age is getting screenings and vaccinations. As you get closer to retirement, it's especially important to know exactly where your health stands…
The ABC's (and D) of Medicare
Advantage plans (Part C) give you what Original Medicare (Parts A & B) does — and covers the gaps. PLUS you can get drug coverage (Part D) and additional benefits like vision, hearing — even fitness*!
*This benefit is available for Advantage MD Plus plan members only.
We have additional resources to help with planning.
Take the Medicare Quiz
Five questions to test your knowledge and get you thinking about your plans for Medicare.
Covering Medicare's Gaps
Original Medicare has gaps in coverage, but there are ways to fill those gaps. We'll show you how.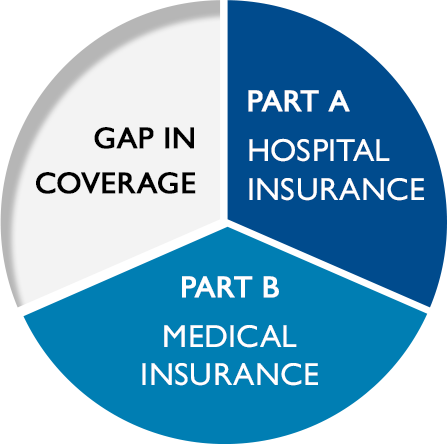 Original Medicare Only
Original Medicare alone only covers about 80% of your medical costs. You're responsible for paying the rest.
Medicare Guidebook for Marylanders
A quick and thorough overview of what Medicare is, how it works, and how to get the most out of it.
Next Steps:
Understand Your Options
Medicare Glossary
It's a new world of Medicare-related words, phrases and abbreviations. This useful reference will tell you what they all mean.
How Advantage MD Works For You
See how your good health is the focus of this all-in-one Maryland Medicare plan.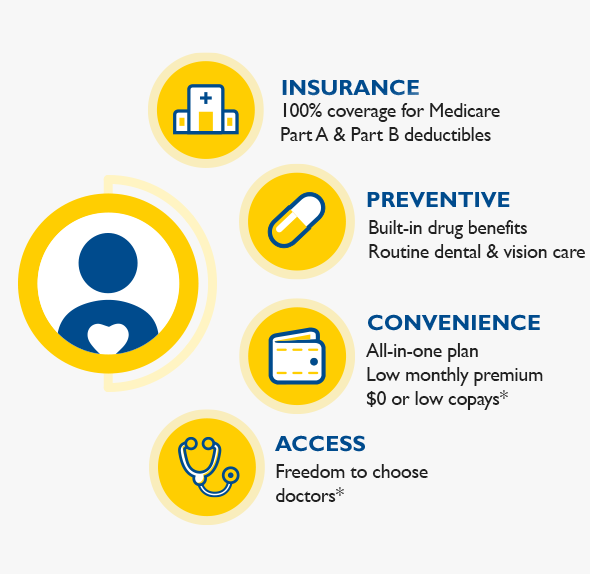 *Out-of-network costs are slightly higher.
Partners In Care
You don't have to go far for quality care. Your network includes major health care systems in the region.
Your Three Medicare Options
When choosing a plan, you have three basic options: Original Medicare, a Medicare Supplement, or Medicare Advantage. Which option is right for you? Let's take a look…
Side-By-Side Comparison
Advantage MD offers two plans that give you the built-in benefits you want. With the Plus plan, you get extras like hearing aid coverage and The Silver&Fit® Program. Which plan works best for you?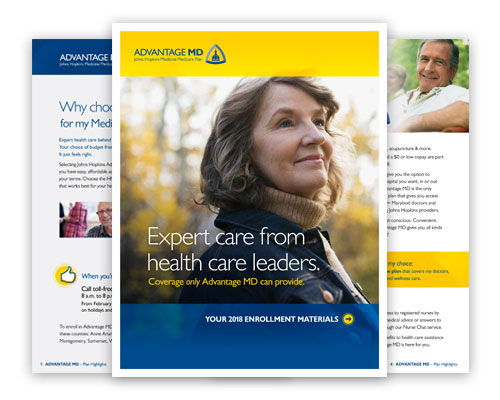 Advantage MD Information Kit
It's all right here — everything you need to know about Advantage MD and how to sign up!
Final Steps:
Preparing to Enroll
Ready to Enroll?
You're on your way to getting the health care benefits you deserve, with our all-in-one coverage plans.
Not sure if you're eligible to enroll? Find out
Before You Enroll
There are a few steps you need to take to enroll in Advantage MD. We've created a list to help you prepare.
Celebrate 65 — 3 Months Early!
You can enroll in Advantage MD up to 3 months before you turn 65. So go on and sign up. Then celebrate your birthday knowing you made the right choice for you — and your good health for years to come.

Not sure if you're eligible to enroll? Find out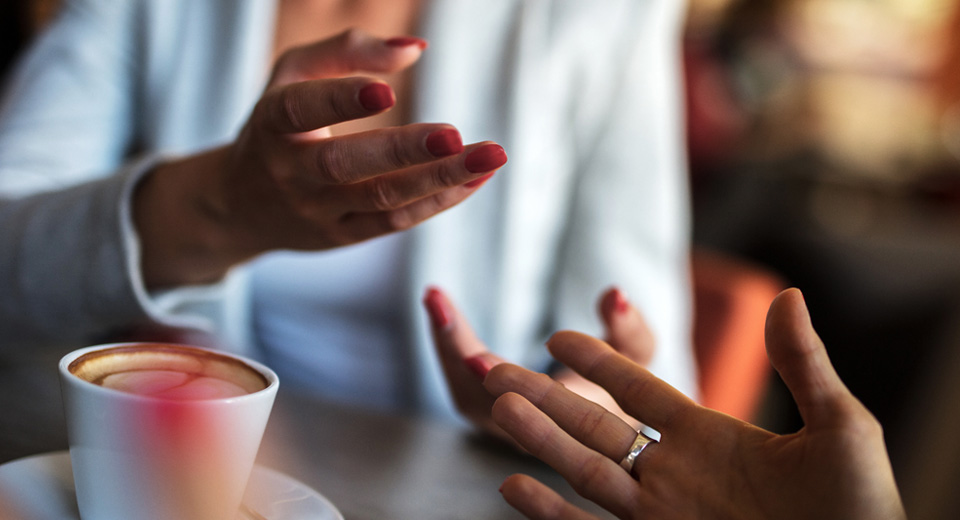 Questions? Talk to us in person
Pick a time and place that's convenient for you, and we'll be there to answer questions — and even sign you up on the spot. There's no obligation.
Call 1-888-403-7682 (TTY: 711)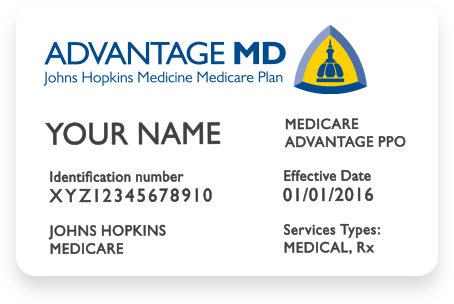 What happens after I enroll?
In about 10 days, you'll receive your Advantage MD welcome kit, along with your access card. Once you're a member, you can begin to explore all of the advantages of Advantage MD.